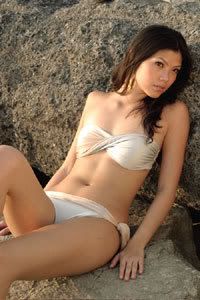 Find a Bikini to Suit You :
With summer holidays approaching fast & the bikini being the key outfit for a summer holiday by the pool & beach, It is time to put some thought in to finding that bikini that will make you look & feel great. It doesn't matter what shapr you are there is a bikini out there for you. Here are some top tips on finding a bikini to suit your shape.
Apple Shape - Wear printed or detailed bikini bottoms to draw attention to your lower half - mix & match separates are great for your shape; medium to high cut bottoms to elongate legs; simple, solid coloured bikini tops that are not revealing. Square necks with wide straps are best for added support.
Athletic figure - Choose bikini tops with ruffles, prints or a halter neck, which will accentuate your bust. You could also try gel-filled or underwired padded tops, which creat instant cleavage. Hipster boy shorts or tie sides which will show your slim waist & generate a curvier silhouette. Tankinis won't do you any favours as they will give you a solid outline with no definition.
Pear shape - Wear a bikini with a bold design on the top half & a block colour on the bottom. This draws eyes away from your bottom & hips, giving you a slimmer appearance. Go for bikini bottoms cut high on the hips to lengthen your legs. Avoid side strings or bikini detailing that draws attention to your lower half. Avoid boy short styles, which will only make your frame look stocky.
Hourglass shape - Look for bikinis or four pieces that flaunt your curves. Block colours, bright patterns & details such as embellishment will look great on you. If you have a sizable bust opt for a top with plenty of support.
Article Source: http://EzineArticles.com/?expert=Ceri_Heathcote